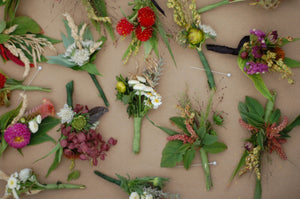 Boutonnieres for all! Groom, groomsmen, fathers, bridesmaids, mothers. Everyone looks good with a flower pin.
Our boutonnieres are fresh from the field with the flowers in season for your special day. 
Choose either a soft or bright color palette. 
Important purchase details:

At time of purchase, either leave a note at checkout or send us an email detailing the following: your name, contact information, the date & time you would like to pick up your flowers, and any details to note about your order.
While we are usually able to accommodate last minute orders, it is not always possible. Please reach out in advance to reserve your flowers for your special date. Please email us for availability before placing your order.
Our listed times/locations for pick up are not necessarily applicable to floral orders (we can be more flexible for your event date). If that applies to you, please make sure we have communicated about your pick-up time and choose an arbitrary location from the drop down menu. Making a note at checkout of your pick-up date is helpful.
Looking for delivery?
We deliver most flowers within Santa Fe and La Cienega city limits for a $15 fee. Please note that we are not able to deliver every day of the week, and only during certain time slots. If you would like your order delivered, please choose an arbitrary pick up location from the drop down menu and then either leave us a note at checkout or send us an email with the following information: your name, contact information, delivery address, notes about delivery location. We will charge you the delivery fee after your original purchase on the same method of payment.
greentractorflowers@gmail.com